Represented manufacturers:
Accutronic
Acmi
Applitec
Medetronic-vision Sciences
Riley Medical
Sunoptic - Cuda
| | |
| --- | --- |
| Member ID: | c1157 |
| | |
| Country: | Israel |
| City: | Holon |
| Address: | 4 Ha Nehoshet St. |
| ZIP: | 58859 |
| E−mail: | info@danelmedical.com |
| Phone 1: | 972-(3)-6326353 |
| Phone 2: | 972-(52)-6208892 |
| Fax: | 972-(3)-7604369 |
| Contact person 1: | General Manager Ori Danel |
| No. of workers: | 10 |


Our company deals mainly with endoscpy and related equipment. We are the exclusive distributor in Israel for several leading international companies among them ACMI and MEDETRONIC (former VISION SCIENCES line of ENT endoscopy products). Our specialty is endoscopy. We specalize on entering new products to the Israeli market, so if you are looking for a distributor for the Israeli market please do not hesitate to contact us. We will make all efforts necessary to make your product a story of success.
DPU-5000 Video Processor Series (GI)



(Vision Sciences)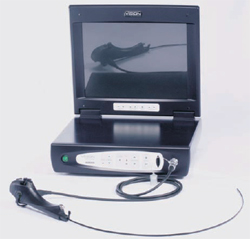 The DPU-5000 Series of compact, Video Digital Processors provides
vibrant, sharp, CCD based, Mini HD imaging with a FULL SCREEN picture.
Designed to fit the hospital, clinic or office practice, and available in
four versions:

• Light-weight processor to work with your existing imaging equipment
• Light-weight processor with integrated air insufflation for esophagoscopy
• Light-weight processor with integrated LCD Display, perfect for the
office practice
• A deluxe light-weight processor with integrated LCD Display and Air
Insufflation; a complete,cost-effective system for any healthcare setting

DPU-5000 Video Processor Series
Mini HD Technology
Full Screen Presentation
Optional 15" LCD Display
Optional Air Insufflation Control
Dynamic Image Enhancement
Pure White LED Illumination
Full Stroboscopic Support
Portable Image Archiving
Add-On Camera Support
Programmable Settings
Optional Foot Pedal Controls
DPU-5000 SERIES IMAGING:
Gain Control
Brightness Control
Image Enhancement Control
Image Freeze with Picture-in-Picture
Image Orientation Controls
Full Stroboscopic Support

DPU-5000 SERIES SPECIFICATIONS:
Image Presentation : Full Screen
Illumination System : LED Control
Formats : NTSC/PAL
Outputs : S-Video (2), RGBS (1), Composite (1), SD Card (1)
DANEL's Professional Library / User's Information
1. ENT Laryngoscope User's Manual
Products advertised by "DANEL Ltd. >> Rigid and Flexible Endoscopy"
| | | |
| --- | --- | --- |
| − Sale − Used Equipment | | Ac − Accessory Di − Disposable Dv − Device In − Instrument Pt − Part Rg − Reagent Sv − Service |